I'm always dreaming up ideas to update my kitchen. I think maybe its because I have a toddler and that's where the cleaning supplies are… so between non-stop cooking and cleaning my little ones countless messes, I'm just in the kitchen A LOT. I'm sure any mom can feel me on that one.
So anyways, I got to investigating what the latest design trends for kitchens were for 2019 which led to the realization that I am probably not alone in how I feel about my kitchen and that If I was wanting to sell my home quicker, renovating the kitchen would a great place to start.
If you are planning on a move anytime soon or just need a facelift to that ever so familiar space in your home, here are some of the discoveries I made about where things are going this year.
By far my favorite design trend that is on the horizon is matte cabinets! And not just matte, black is also on the rise. Matte black, does it get any better?? I really don't think so. I'm sure its not for everyone but I think that it was time that we got a little more bold and strayed away from the all white that the recent years have been about. I mean, there's nothing wrong with all white, is classy and timeless, but sometimes its nice to switch it up. Take a look at this black beauty and I bet you will agree.
Another feature that I was noticing was that the hood vent is not just a functional piece of the kitchen anymore, it's become more of a piece of art with unique materials and design. What used to be just a piece of stainless steel is now the centerpiece for the space. I'm a fan to say the least.
Counter tops are also making a transition. Where granite used to be very popular people are making the switch to Marble or Quartz. If this is in your budget, its beneficial to know that although they look quite similar, there is quite a difference between the two. First off Marble is all natural and therefore porous and is prone to staining and etching. The stone requires a lot more maintenance due to the fact that its suggested you reseal it every 1-2 years. Now that can get pricey! Its man-made 'counter'-part (pun intended) is a lot less work and resistant to the damage that marble is so prone too. It's also cheaper… but its just not Marble.
A few more wallet friendly material are continuing to make an appearance this year and include concrete and wood. Concrete is very durable and will last a long time where as wood is a little more work and will need to be replaced eventually. It's a tough decision because the wood gives such a warmth to the space that it just might be worth the hassle.
BONUS – If you cant decide on just one material for your countertops, you're in luck because another top trend for 2019 is creating your island to be different from the rest of the kitchen. This includes different color cabinets and/or counter top materials! Again darker colours like navy blue, dark grey, brown or black are popular colours for these misfit islands.
As for flooring, lighter is still better. Whether it be natural wood or a "greige" color, it's much better than the amount of dust and dirt that shows up on dark floors. I've had dark floors and I can tell you… the amount of time you spend cleaning those will come close to that of a part-time job. And if you have decided to renovate your home, you don't have time for a part-time job (although you might need one to pay for all this). One of the materials that I found intriguing was the new wood-look tile that's becoming popular. Think, the look of wood and the durability of tile, it's a win-win.
Outside of these main areas of your kitchen you might want to add some unique touches that will make it dazzle. Small brass and gold touches are nice as well are hanging pendant lights. Take a look at this sink, I bet you don't know anyone with one of those!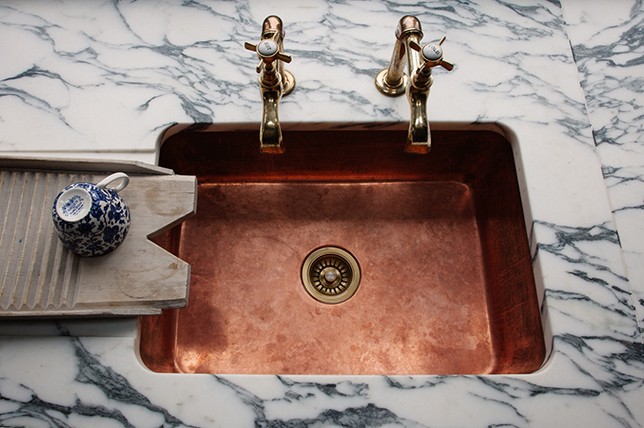 Another design element that I have been really enjoying lately are the darker gunmetal appliances! These essential elements of any kitchen aren't just your boring black, white and stainless anymore. There are numerous finishes of steel appliances so you can find the perfect set to compliment your new kitchen. You can even choose a bold colour like blue or red for your range and really make a statement.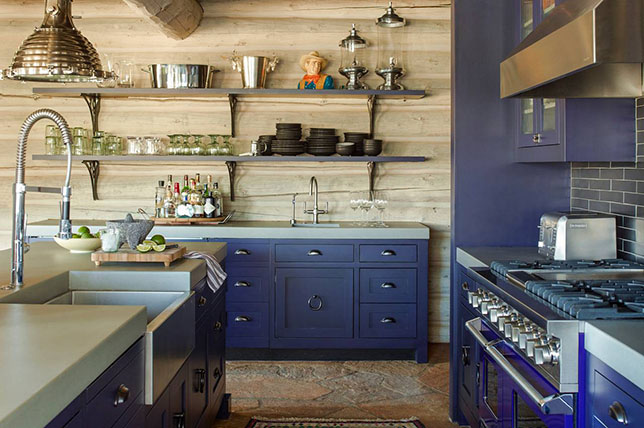 As they say, kitchens sell homes. So there are a few ideas that can help you to choose the perfect design that buyers will be love. And don't forget, once you have put all this time, energy and money into making your kitchen current and amazing, don't forget to make sure that you capture the transformation with great images…and I might just know someone who could help you out with that 😉
Happy Friday!
Photos from: https://www.hgtv.ca/ https://www.decoraid.com/